Eufloria PSN Launched! Sense of Wonder Night Success!
6 October 2011
And we are LIVE! After a full year of porting and adding content I can now say with great delight that Eufloria PSN has been launched! So far the reviews are pretty positive it must be said, so let's hope it stays that way. :-)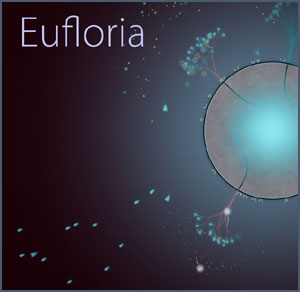 We are certainly darn proud of the game, especially if you take into account it was created by a core team of only two people. This is an indie dream come true for us, and hopefully we will keep doing originall creative games for a long time to come.
The players luckily also seem to love it, based on some of the Twitter comments and emails we receive, and that is what really matters in the end. The game's official site is still a good place for news, but keep an eye on our twitter feed as well: @RudolfKremers or @psychicteeth.
Journalists should check out our PRESS KIT.
Just before the launch we went to JAPAN! We had been chosen to take part in the Tokyo Game Show Sense of Wonder night, and that meant we had to give a public talk about the game. It went well, and the resulting video is actually a good introduction to the game, so have a look. :-)