Players give Eufloria HD overwhelming thumbs up!
13 February 2012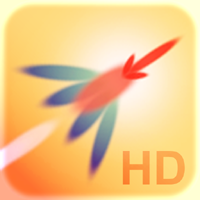 I have been making games for quite a while, either in traditional game development, or as a modder, or as an indie. I made my first game in 1985 approximately, and joined the UK industry about 12 years ago. In that time I worked on all kinds of titles, some pretty famous and well received.
Nonetheless after in all that time I have never seen the positive player response we are getting for Eufloria HD for iPad. It is truly truly wonderful.
Have a look at what people have to say about the game:
(USA) ***** - Perfect - I played this game on the PC since it came out in 2009. Beautiful, fun, easy, and addictive. This is a wonderful port of an under appreciated PC classic. Buy it and I guarantee you'll love it.
(USA) ***** - Good game. - What are you guy slacking on. Hurry up and get all of your companies games on the iPad. You guys could be making loads of cash right now. If you guys put up your other games I'd buy them all.
(FRA) ***** - Belle adaptation sur tablette - Très bon portage sur iOS, fluide (testé sur iPad V2), je retrouve Eufloria avec plaisir. La bande-son et les graphismes sont la source d'une excellente atmosphère. Bonne progression de la difficulté, contrôles tactiles très commodes, plus agréables d'ailleurs que ceux de l'original à la souris. Maintenant, ce jeu ne plaira pas à tout le monde, c'est un mélange d'exploration, de conquête et de stratégie en temps réel à base... de graines. Aaâahh oui, c'est réellement un ovni et soit vous adorerez, soit vous décrocherez illico.
(GER) ***** - Auf so vielen Ebenen wundervoll! - Ein wirkliches Meisterwerk in Sachen Design, Gameplay und Interface. Erfrischend leichtes Design mit minimalistischer & zugleich atemberaubender Grafik und einer leicht zugänglichen intuitiven Touchsteuerung, die sich perfekt ins Spiel integriert. Den Schwierigkeitsgrad kann man individuell auf herausfordernd oder entspannt und zudem die Spielgeschwindigkeit einstellen.Ein rundum großartiges Spiel wohltuend abseits der Mainstream-/ Casualtitel. iOS-Strategen greifen allemal zu, zumal sie auf der wohl optimalen Plattform kolonisieren dürfen, alle anderen sollten zumindest mal auf der Entwicklerseite einen Blick drauf werfen!
(GER) ***** - Endlich eine IOs-Version - Ich warte schon seit der Vorstellung des iPads darauf, dass Eufloria endlich auch eine iPadversion kriegt, das Spiel passt und gehört einfach auf einen Touchscreen.Das Spiel ist sehr einfach zu lernen, im Vergleich zu anderen Strategiespielen gibt es nur wenige verscheidene Einheiten, was es aber nicht leichter macht, die Level sind auch auf einfach durchaus anspruchsvoll.Die Graphik und die Musik sind mit das beste, was ich bei einem Spiel gesehen hab.Die Durchspielzeit liegt weit über 15h. Das ich das zwei Tage nach dem Erscheinen sicher sagen kann, spricht glaub ich für sich...Fazit: Wer dieses Speil nicht mag, der mag generell keine Spiele
(UK ) ***** - so awesome - addictive as drugs
(UK ) ***** - The business! - Beautifully presented, works perfectly with iPad interface, absorbing, addictive, one of the most innovative and well produced apps I've bought. Highly recommended and deserves to be a huge seller!
(UK ) ***** - Eufloria Rocks - This game is different and addictive!
(UK ) ***** - Truly wonderful - Firstly, I've not played other versions of this game (PS3 etc), but this is like it was designed forward touch screens, playing it on the iPad is so natural. The developers have done a fabulous job of porting this.I love the graphical style too, very unique. As is the gameplay. In fact, the game could do with a clock in the corner of the screen as I quite I spent too long playing (joking about the clock, not about time flies though).In all, a remarkable experience, thank you.
(BEL) ***** - Eufloria - Excellent jeu qui va beaucoup mieux à l'ipad qu'à la playstation sur laquelle il était d'abord sorti.C'est pour moi un des meilleurs jeux sur iPad si pas le meilleur!
(ITA) ***** - FANTASTICO - Mi piace tantissimo. La grafica e sublime, il tema molto originale. Ipad si merita proprio un gioco cosi!!!!
(CAN) ***** - Stunning! - I cant believe that I am the first to write a review for this gorgeous game! Its a privilege really. Antway, so I read online that this game was developed in 2009 for PC and I think that the touch controls really brong the game to life.With Eufloria, you get a kind of zen feeling inside just by playing! The wonderful music sits quietly in the background perfectly supporting the gameplay, the controls are responsive, easy, and intuitive, the gameplay itself is suprisinly engrossing and I found myself sitting alone in the dark in my basement mesmerized and unable to stop playing. It is a perfect blend of graphics, music, and classic RTS gameplay. These developers arent to be missed and I hope that they will either be expanding this game, not that it is short, or creating another wonderfully unique titile. I cant get enough of Eufloria!Perfect 10/10
(CHI) ***** - 这游戏挺好,给你们装逼够用了 - 有位仁兄说这游戏用来吸引别人的目光,我擦啊,你们丫真对得起装逼二字啊!!!
(RUS) ***** - Wow!!!! - Играл в этот шедевр на PC - прошёл раз 5! И было огромное желание поиграть в продолжение! Увидев это на iPad - потерял дар речи!!!! Урааааааааааааа
(MAL) ***** - Great concept - Simple and well executed.
(POL) ***** - Wspaniała gra ! - Na początku moze wydawać się dziwna, ale naprawdę ciekawa. Kolorowa, wspaniała muzyka !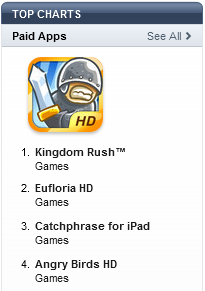 Additionally, the critical success has translated to chart success, which is just as satisfying. (The UK charts especially). It is tough out there for an indie company, and the fact that we are ahead in the charts beyond heavy hitters like "Angry Birds" and othe corporate fare is nothing short of stunning. (we could do a bit better in the USA though ;-))
For now we have our crazy RTS, Space Exploration, Ambient, Art, Conquest, Puzzle, or whatever else type of game you want to call it, up there lighting a candle for other indie devs as well. It shows that with hard work and a bit of luck your title can get noticed. Now we have to see if we can keep momentum, and see if we can break into the the USA top ten.
So, if you haven't played the game yet, why not give it a go now? The user reviews above tell a convincing tale. :-) Get it it from the AppStore, and please rate the game!